Manufacturing high-end t-shirts with great prices.
Manufacturing high-end t-shirts with great prices.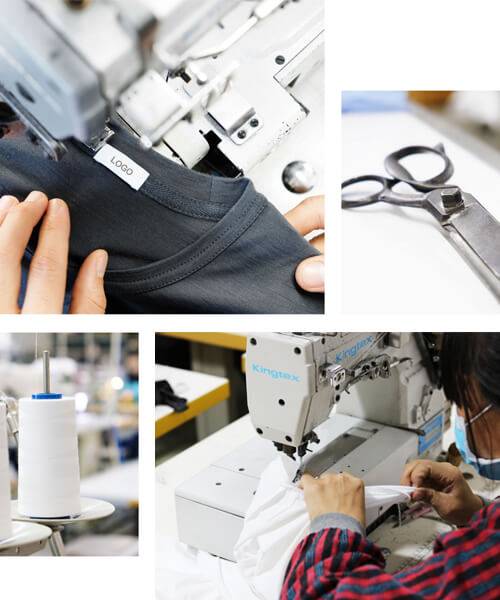 How to start your t-shirts order?
Arlisman are a T-shirt manufacturers and supplier in China. Our main business is custom and produce good quality t-shirts, details of custom order as below.
Design: send your design to us, if you don't have your own design, you can send us the picture of the clothes and logo/pattern you need, then we can make the drawing for you.
Confirm the type and size of the T-shirt: like producing men's T-shirt, women's T-shirt or children's T-shirt, straight cut or slim fit, UK size or US size. And you can choose bandhnu T-shirt, promotion T-shirt and election T-shirt, etc.
Fabric: like cotton, polyester, bamboo fiber, blended fabric. Pure cotton for daily casual wear, pure polyester for sports wear. If any special request, can choose the blended fabric like 60%C+40%T.
Printing or embroidery: use printing or embroidery for designed logo or pattern. Printing can be screen printing, digital printing, etc. For sure, you also can choose plain T-shirt, and make your own design by yourselves after your received it.
Quotation: base on your require.
Sampling: produce the sample and send to you after finished, to check the detail and quality.
Mass production(

MOQ

100pcs per color per design): base on the sample, we produce the batch order, then we inspect your order before the shipment.
Pack and delivery, then you will receive the goods sooner.
What requirements can you ask for customized T-shirts?
What requirements can you ask for customized T-shirts?
We produce T-shirts and tank top with the highest quality that meet your requirements.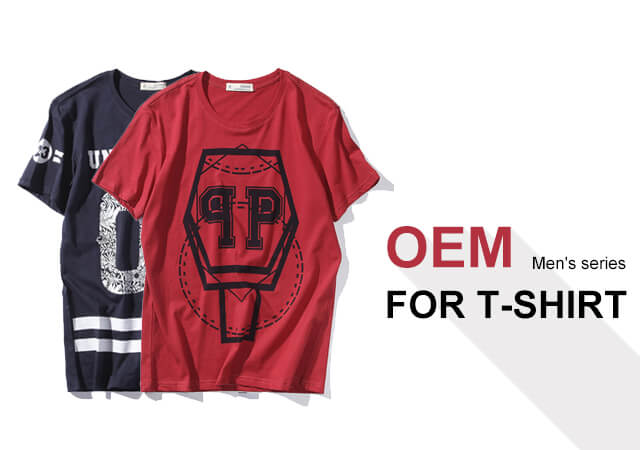 Customized your own design on T-shirt through printing and embroidery, those 2 ways with their own advantage and you can choose as what you need. Like using printing on election T-shirt since with cheaper price. In addition, we suggested use 200g or heavier fabric for the embroidery.
Different fabric with different color chart and up to 60 colors for selection. We can match the color base on your design. If you do not know what kind of color you need, we will provide the suggestion also.
3. Custom size and pattern
You can use our size chart or we can produce the size as you provided, like the size of chest/ length/ shoulder etc. And you also can choose the pattern of the T-shirt you need, loose, casual, slim fit etc.
It's very significant to choose fabric to produce T-shirt, you can have your own special request of the weight of the fabric, material, touching, breathability, yarn number, etc. As a professional T-shirt manufacturers, we will suggest relevant fabric as you need.
High quality T-shirt includes many details, such as round neck, V-neck, high neck, wide hem and cuff sewing or narrow edge sewing, etc.
A T-shirt is usually packed in transparent plastic bags, and then packed in cartons, about 100 pieces per box. Of course, you can also customize the packaging style of your own brand.
Clothing processing many types of T-shirt for different application, like commodity T-shirt, Advertising T-shirt, Tourist T-shirt, theme T-shirt, brand T-shirt etc. In the process of OEM, we pay attention to the protection of special fabrics (such as special fabrics).
What kinds of fabric can we provide for OEM T-shirt?  – Cotton, Lycra, Polyester, Tencel, Polyester and so on.

Any special fabric? – Anti-bacteria, quick dry, perspiration etc.
Please tell us your idea, we will recommend suitable T-shirt fabric for you, or tell us your specified fabric, we will manage the production.
Our standard production of plain T-shirt
Our standard production of plain T-shirt
The following is just the international standard of T-shirt production.
You can ask for it according to your needs. We will complete the production according to your requirements. The collar of a T-shirt reflects the conscience of a brand and the production level of a clothing factory. 1.5cm high elastic rib, tight and not easy to deform. A ribbon is sewn on the back collar and one more sewing at the front collar to prevent pricking and keep the shape of the collar. This kind of T-shirt collar is durable.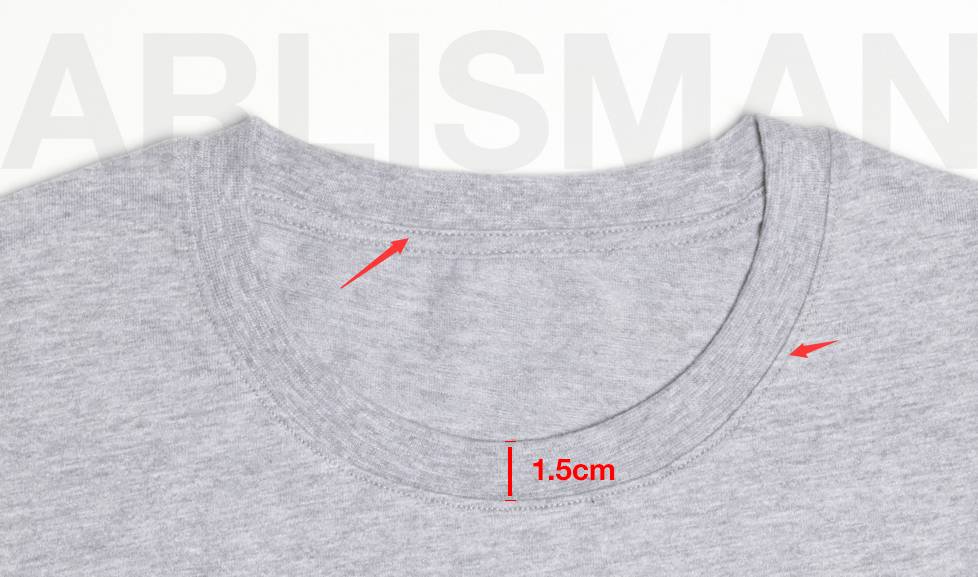 As a top T-shirt manufacturers, we attach great importance to quality
As a top T-shirt manufacturers, we attach great importance to quality
Our T-shirts are made of selected raw materials and high-quality fabrics. Whether pure cotton or blended, they have the advantages of comfort, durability, air permeability, etc.
All T-shirt fabrics will be washed before production, and the ready-made clothes will be shaped, to prevent the size of the finished products from shrinking after washing and it make the product feel more comfortable.
We carefully plan every step of the production of the finished T-shirt. We constantly improve every detail of the construction process to provide the highest quality products.
The quality assurance is a kind of performance that we are responsible for all customers, and we are proud of it!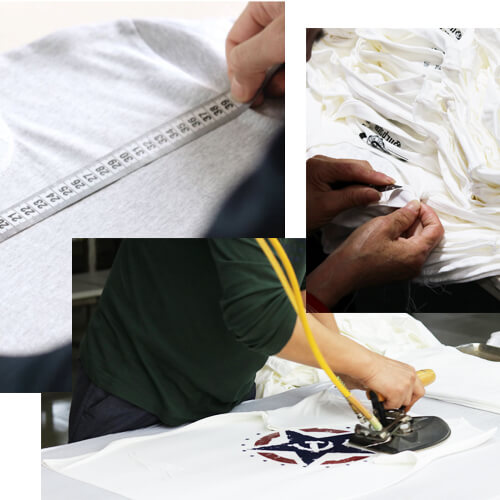 The video about OEM T-shirt
The video about OEM T-shirt
Through the video to understand our T-shirt production process and the actual effect of the finished product.
So, how many items do you need?
So, how many items do you need?
Contact – a 21 years experience T-shirt manufacturers.

OEM Apparel Manufacturer,Garment Manufacturer,Clothing Manufacturer.
T-shirt production is simple but need attention to the process
T-shirt production is simple but need attention to the process
T-shirt manufacturing is a simple and easy process, but this does not mean that every clothing manufacturer can correctly and rigorously handle this process, as long as there are any problems in the production process, it is not a high-quality finished product.
The production of T-shirts and tank tops is like an art. Before manufacturing, we need to understand the properties of fabrics, have skilled sewing masters, and have perfect quality inspection process to deliver perfect products to each customer. In fact, the key point is to find a clothing manufacturer with rich experience in the clothing industry to produce your clothing, which has already succeeded in 50%.